EC2020 Dates Announced
We are very pleased to inform you that the Finnish Sports Association of Persons with Disabilities has been awarded the hosting of the IWAS Powerchair Hockey European Championships 2020, to be held at the Pajulahti Paralympic Center in the city of Lahti from 1st to 8th June 2020.
IPCH Chairman, Fabio Rodo, comments: "We are going back to a well known place that is going to welcome us after a huge renovation. I have no doubt that Finland, one of the most active nations in PCH community, will show us a great stage for all the participant nations."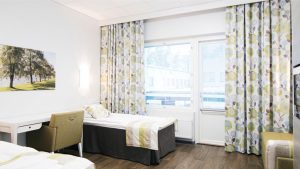 Pajulahti Paralympic Center offers competitive and elite sports-related training facilities, coaching education and training camps for professional athletes.
Pajulahti offers accommodation for up to 900 persons the whole centre and accommodation underwent a renewal process started in 2013 that improved the accessibility and the confort of rooms and venues.
Local Organizing Committee General Secretary, Timo Pelkonen, comments: "We are happy to host the top powerchair hockey players of the continent once again here in Finland! The Pajulahti Paralympic Training Center have put huge effort to become one of the leading disability sport centers in the Europe during the past years so I'm confident that the players will be very satisfied with the tournament."
Learn more about the Pajulahti Paralympic Center here: